FACIAL TREATMENTS WITH ORGANIC PRODUCTS
Relaxation, self-indulgence and a more beautiful glow. A facial treatment at cosmetologist Elisabeth Gierus in Copenhagen is pure enjoyment and a good investment in yourself, your skin and your well-being. When you get a facial treatment with us, you are in the best hands. During the treatment, you will notice that your skin is doing all the work, you while you relax. Afterwards your skin will appear nicer and brighter.
For our treatments, we only use organic skincare products containing lots of plant extracts, vitamins and antioxidants which optimises the appearance and health of your skin. Your skin is guaranteed the best of the best with these organic products, developed and produced in Denmark.
What does a facial treatment do for your skin?
A facial treatment speeds up the blood circulation and causes the cells to renew faster. The skin becomes more attractive and fresh – and you become happier. All facial treatment includes a cleanse, peeling, toning, serum, massage with appropriate and active products, a mask and a day cream. For a facial treatment, you always get a superficial cleanse and a deeper cleanse, where blackheads, sebum buds, dead skin cells etc. are removed so that the skin can breathe and absorb the active substances in the products optimally. Of course, all treatments and products are tailored to your individual skin type.
Free skin analysis
We all have different skin types and therefore different skincare needs. We offer all customers a professional skin analysis where the skin type and the condition of the skin is identified, so you can receive the right treatment and guidance in using homecare products. Elisabeth Gierus' facials and skincare products are for everyone – men, women and teens – and we adapt all treatments to meet individual needs.
Order your free skin analysis. Book your time online now.
Elisabeth Gierus Skincare cosmetologist and beauty clinic
Book your time for a treatment in our beautiful location on Gl. Kongevej, Frederiksberg.
Address: Gl. Kongevej 171 A, DK-1850 Frederiksberg C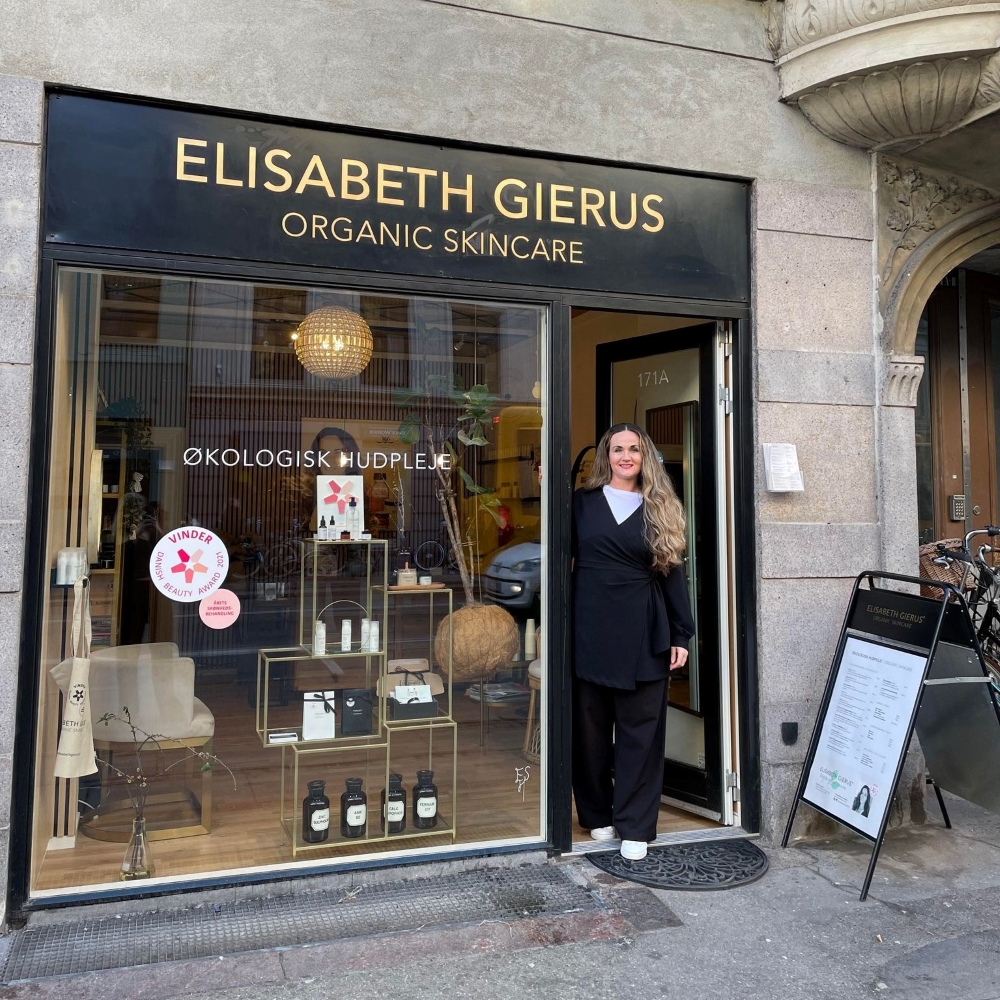 FROM MY BEAUTY CLINIC AT COPENHAGEN, DENMARK
Come and experience a wonderful natural facial treatment and feel an instant difference on your skin. Or try our color and straighten for your eyebrows & lashes with a beautiful result. Or get a elegant makeup that suits you.
Elisabeth believes that beauty must be healthy and that it is important to live in balance with nature. When she treats, she only uses her own skin care products.
You can book your time here
Cosmetologist and Beauty Clinic, Gl. Kongevej 171 A. 1850 Frederiksberg C.
See on map