Hen night IN THE BEAUTY SALON!
You can now hold a bachelor party in the beauty salon at Gl. Kongevej with bubbles, healthy snacks and organic pampering.
Minimum 6 people and max. 20 people. Price per. person DKK 249 is incl. the treatment for the bride, bubbles, snacks, face masks, serums and creams you can apply to each other while you wait.
If you need to hold a bachelorette party outside my opening hours, for example on a Saturday afternoon, please contact me at  info@elisabethgierus.com or per. phone 40 18 00 14.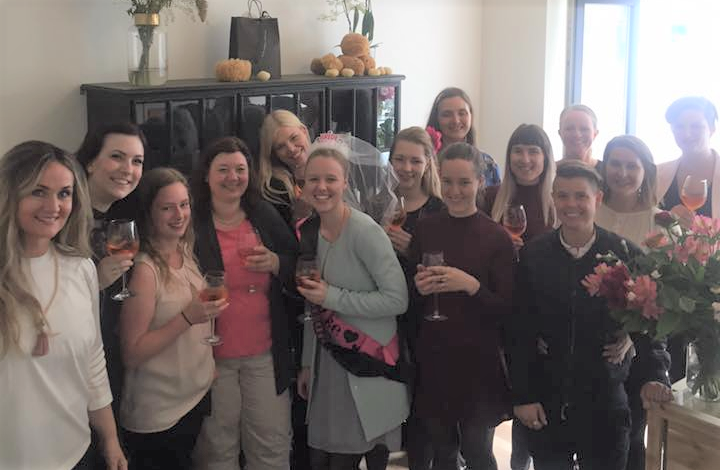 For my bachelorette party, I was so lucky that we went to Elisabeth Gierus' beautiful and cozy beauty salon. 
When we arrived we were given the warmest welcome by sweet Elisabeth who was waiting with cold bubbles and delicious snacks in the beautiful room. We started by drinking bubbles and spent time looking around the salon.
Subsequently, Elisabeth told about the program – I had to have a facial, while my family and friends had to try different face masks. I was shown into the cozy treatment room, where I came down and lay on the couch with a bathrobe and a lot of blankets on, so I lay warm and relaxed.
It was a great treatment where I felt completely safe and in very professional hands while enjoying the treatment and the calm atmosphere. In the background I could hear the others laughing and having fun, and once in a while they came by and took some pictures of the treatment.
After the treatment I was completely relaxed and you could really see and feel a change in the skin.
At the same time as the treatment, I received a delicious face cream as a gift and everyone who participated received a gift card for the salon, which could be used for a treatment.
It was an absolutely fantastic and super cozy experience to be at a bachelor party with Elisabeth and I was so happy that they had arranged this experience for me!
THE BRIDE GIRL'S EXPERIENCE
I had to arrange my dear friend's bachelorette party. And it was not quite easy at first, when she had initially stated that she did not want a bachelorette party. I therefore thought we should follow her spirit and therefore create a day of pampering. I therefore got to talk to the always sweet Elisabeth Gierus and in the collaboration with her, the bride had the most beautiful day. Nothing was missing. Line got a delicious facial, all the while the rest of us had fun giving each other face masks, as well as enjoyed drinks and snacks. 
All in all, a great experience. And I would therefore highly recommend it to others who are standing and thinking that they will pamper their sweet bride.